"As an instructor, it's all about fostering connection (mind, body, spirit) and safety. My main goal is to inspire singers to feel safe enough to 'really go for it' and have the time of their lives regardless of background, age or ability. " ~Dina Blade
What is a jazz vocal performance class? It's a place to learn about singing, swinging and performing jazz standards. To have fun while becoming a better singer. To explore your unique style in a safe, supportive environment and sing your heart out. We will work on stage presence, self-expression, microphone technique, interacting with the band, connecting with the audience, singing for enjoyment. All levels welcome.
What's up next? JAZZ VOCAL PERFORMANCE CLASS SERIES: Fall Quarter 2017 beginning the first Sunday in October and runs for 4 consecutive Sundays (10/1, 8, 15, 22) with a recital date on a weeknight soon after the the final class (exact date TBA). Private Maple Leaf Music Studio. DATES: four Sundays from noon-3pm. At the end of the series, all students perform 4 songs with a jazz trio at Egan's (1707 NW Market St, Seattle, WA) www.ballardjamhouse.com
REGISTRATION: Cost: $275 Fees include four class sessions plus the Egan's recital. Class is limited to 6 students to ensure a quality experience. All levels welcome. (4 spots left at this writing).
MAKE CHECKS PAYABLE TO: Dina Blade Productions / Mail to: 6220 28th Ave. NE Seattle, Wa. 98115 Please include contact info (email preferred) with payment. Your spot is "reserved" only by your registration check (please include contact info, email preferred, with payment), and you will be notified of the studio location and all class details. If the class is full, you will be notified immediately. Questions? 206-524-8283
"Awesome evening!! It was a peak experience for me. Really, from beginning to end. . . the atmosphere, the adrenaline rush, everyone's artful and heart-felt singing, the congeniality, the friendship. I will remember that night forever. Thank you, Dina and Hans for making this possible and bringing out the best and most positive from all of us. And THANK YOU co-singers – you are all so awesome and supportive and great singers! Very best wishes, Erica"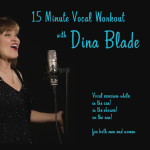 Dina Blade's 15 Minute Vocal cd for both men and women. "Nothing complicated here, and you can use it everywhere." ~Chris Lunn. Download at http://www.cdbaby.com/cd/dinablade5 for $12 or to buy cds for $10 plus $3 shipping (discounts and free shipping for quantities of 5 or more) TO ORDER the cd send $13 to Dina Blade Productions 6220 28th Ave. NE Seattle, Wa. 98115 or contact Dina.
I charge $60 an hour for vocal and/or guitar lessons (folk, swing/jazz or bossa nova) in my beautiful Ravenna studio. Group lessons are also an option (contact me for specifics).
Teacher Bios: Dina Blade is a singer with a relaxed and swinging vocal style who has toured and performed in the U.S., Cuba, Brazil, and Canada. She began accompanying herself on guitar at age eleven while singing simple folk songs, and eventually expanded her repertoire to include American jazz and Brazilian bossa nova. Dina performs several themed shows featuring 30s and 40s music, published a collection of her favorite singing games and taught them to kids in both the USA and Brazil, this past year released a cd recorded in Brazil to rave reviews, worked as a guest director with a Brazilian choir teaching blues and jazz, appeared in commercials and films, and released seven recordings, earning international acclaim for her cd "I'm In The Mood For Love" featuring the lyrics of Dorothy Fields with New York-based pianist Bill Mays. KPLU'S "Jazz Northwest" DJ Jim Wilke praised her voice as "warm and inviting, fresh and original," and included her cd, "My Romance", on his "Best of the Northwest" list.  She maintains a busy schedule as a performer and educator, and has been called "a one woman celebration of song and dance".
Hans Brehmer has been performing for more than 25 years in the Pacific Northwest, working as a pianist, vocalist, arranger, musical director and creative force behind countless recordings and concerts. He has served as an accompanist at Cornish College of the Arts in the Jazz Vocal Department, and plays for some of the area's top vocalists. Hans is in high demand as a solo pianist and ensemble member in both small combos and big bands, and has performed at Jazz Alley and Benaroya Hall here in Seattle as well as the Metropolitan Room in New York City.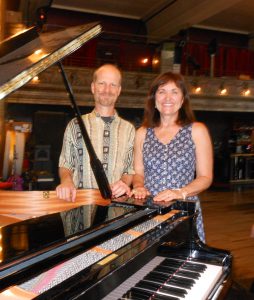 Quotes from Students: "I so appreciate your positive spirit, support and constructive criticism (and sense of humor!).  Besides being a great class – this is a just generally a warm and musically supportive atmosphere, but also provides a good framework for working on details." ~Karen S. "Your passion and support these last several weeks created a space for powerful expression. I'm indebted to you all. The performances last night moved my soul!! I hope we find ways to stay connected in the months to come. Thank you for an extraordinary night!"  ~Kate W. "Thank you all so much for a very special evening.  It could not have happened without Dina and Hans providing the opportunity and venue; and it could not have been so spectacular without their expert and kind coaching and encouragement to each and every one of us". ~ Claudia S. "I want to thank you for yesterday's class. I came home walking on air and amazed at how much I learned in one afternoon. You both are so generous of spirit and encouragement working with novices." ~ Cynthia H. "Wow! What an evening. I want to express my sincere gratitude to all for setting a tone of openness and affection such that, for the first time in my life, I now know what it feels like to sing (in front of an audience)..like no one was watching! Stirred my soul!! I've never felt such aliveness…and I thank you for that, more than you can know." ~Kate W. "Major Kudos to Dina and Hans for guiding us through the labyrinth of musical ideas and possibilities – had such a blast and can't wait to work with you again! " ~Libby G. "I love the magical brew that can happen when complete strangers come together and share with each other, taking risks and being open and encouraging. Dina and Hans are the brewmasters of course!"~ Betsy H. "It can't hurt to say once more a thank you and that this particular workshop (and I have done more than a few across Seattle) will have a special place in my memory.  Each participant–all of you–contributed to making this a standout experience for me." ~Mary F. "Thanks again for putting the class together, and all your organization and comments and encouragement.  It was a great "community" experience and I really appreciated it." ~Curt S. "Now THAT was fun!" -Karen S. "What a great night.  I just watched the video and can't believe that's me up there doing all that!  You two have created such a wonderful opportunity through these classes.  It's absolutely magical. I can't thank you enough." –Donna "Thank YOU, Dina and Hans, for providing us this wonderful opportunity to develop our vocal and performance skills in such a fun and supportive environment. This was my second workshop with you, and both were great experiences.  And I'm SO happy to have three new songs (and a fourth that needs just a little more work) to perform at jazz jams and perhaps at a showcase. " ~Jazzy Jayne  "Thank you Dina and Hans!  It was so nice to sing and start thinking about getting those creative juices flowing again.  Look forward to the next time." ~ Tina M. "Thank you, thank you, thank You Dina!  For having this wonderful workshop!  It was a great step for me, to get back into  singing again! Thanks for all your pointers, tips and those innovative 'warmups!'" ~ JLynn "Thank you all. I truly enjoyed jamming and listening to all of you. I learned more about music and singing today than ever before! Also, thank you for allowing me to be myself and be comfortable with whatever style & level of singing I'm at at this point." ~Janet "I thoroughly enjoyed the whole workshop and hearing everyone sing….it was just great and so much fun!  Nice to meet everyone." ~Karen "I just wanted to say thank you again to all of you.  I had a great time at the workshop and you all did so great with your songs.  It was nice to sing before such a supportive audience." ~ Susan "So, this has been pivotal for me to say the least. Such a wonderful experience and I will DEFINITELY be trying out for solos in my group..Thanks for the kindness, the stroking and the YOU CAN DO IT chats!" –B. Young "What a shot in the arm the recital was.  I've been flying high on the energy hit ever since." -Steve N. "Thanks so much for the wonderful experience the class provided.  It way exceeded my expectations and Tuesday night was a really special highlight for me.  I did better than I ever thought I could have. You guys are the best!" – Donna S. "Yesterday was such an energizing experience for me as well as the others in the group I am sure.  This is what has been missing in my life since I left LA and singing there.  Thank you!" – Sandi V. "I kind of feel like I fell in love (just a tiny bit) with everybody and perhaps it was all due to the welcoming and accessible tone you set." -Andy F. "I want to give you a heartfelt thank you.  You and Hans have really opened up a new world to me of internal enjoyment, community and many new ways to look at and work on singing.  In my quest to learn how to sing I've actually found a richer world of interpretation, phrasing, volume, beat, confidence (or lack thereof), composers, presence, memory, appreciation … the list grows with each visit. I look forward to our future work!" -Tamie C. " I enjoyed every moment of the workshop, and thought you did a super job of making it progressive, gradually building our confidence, and coaching. When I left, my heart was soaring!" -T. Erickson "Thanks for the great workshop yesterday. It exceeded my expectations! I would love to do a follow-up session, so count me in." -D. Griffin "Singing brings me such joy, and I really had never thought of myself as a singer. Your workshop made it both safe and fun to find out." –M. Butler "Dina, a big THANK YOU to you and your very talented ensemble. You are all so approachable and comfortable to work with, and sing with. A couple of the girls believe they have some new tools to help them down their musical path…" -Angel Michaels, Choir Director, San Juan HS "Dina, many thanks! You're great! Hope we can work together again down the road. You and your guys had a nice rapport with our kids and they learned alot- they were talking about it well into Concert Band and again after school." -Janet Olsen, Jazz Band Director, San Juan High School