THEMED PROGRAMS|WEDDINGS, CORPORATE EVENTS, DANCES
Themed Programs
Dina Offers a Rich Variety of Themed Shows to Delight All Types of Audiences.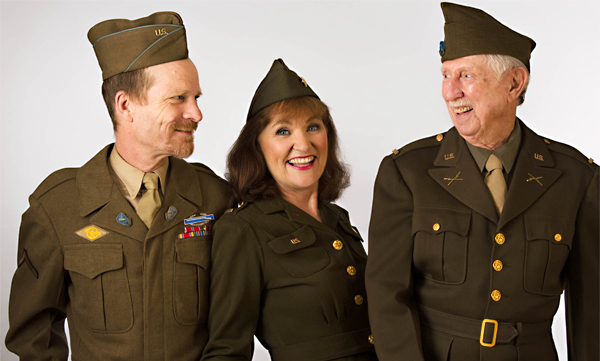 Sentimental Journey:
Songs and Stories of World War II and other popular theme shows with 1920s, 30s & 40s Hits, are presented with costumes, memorabilia, and great songs by popular songwriters like Cole Porter, Irving Berlin, George & Ira Gershwin, Rodgers & Hart, Fields and Kern and a host of others. This wonderful music is guaranteed to delight audiences and get their toes tapping!
"I frequently perform vintage music the old fashioned way — as a vocalist with piano accompaniment (tap dancing optional) or just singing and playing guitar. Other instruments can be added (up to seven pieces) for a bigger sound. I have many references, so feel free to ask me."
– Dina Blade
Other Popular Themed Programs to Choose from:
A Swinging Yuletide:

Classic timeless holiday songs for all ages

My Funny Valentine:

A lively interactive program featuring romantic songs

Songs You Remember:

Vintage hits and sing alongs

Sounds of the Wild West:

Memorable gems for ridin' and ropin'

Salute to Broadway:

Popular songs from Broadway musicals

St. Paddy's Day Favorites:

Irish classics and other sing alongs

Mother's Day Tribute:

Vintage songs in honor of mothers

Father's Day Tribute:

A salute to fathers everywhere

Blame it on the Bossa Nova:

Classic and romantic songs from Brazil

Cole Porter Night and Day:  The music of Cole Porter
Too Marvelous For Words:   Songs/Songwriters of the 1930s-40s Golden Era of Radio
Venues & Target Audiences include:
Theaters
Libraries
Senior Groups
Retirement Communities
Luncheons
Festivals
Dinner theaters
Parties
Reunions
Choirs
Schools
Themed Program Feedback From Guests:
"What an amazing program. It was standing room only. There was laughter, there were tears, but everyone is raving about this fabulous show. One man told me this was the best performance he had ever attended in his life! They arrived early and were well prepared. True professionals and a genuine pleasure to work with."
– K. Pointer, Ilwaco Library
"Dina, Ray and Hans were wonderful to work with, down to earth, and so gracious to our older patrons. Wonderful program!"
– B. Pederson, Amanda Park Library.
"This was just a fantastic show! Very, very professionally presented and put together, and I cannot recommend them highly enough."
– M. Zilli, Naselle Library