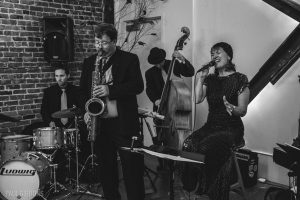 Dina Blade delivers a dynamic sound over a solid rhythmic groove. Playful, innovative and accessible, Dina Blade's vocals can be heard regularly on Music Choice nationally syndicated radio as well as in her hometown of Seattle, Washington. She has spent her life fostering connections through music:performing, teaching and mentoring students of all ages and skill levels, and  has toured and performed in the U.S., Canada, Europe, Cuba and Brazil. Dina released seven recordings, including a cd with New York-based jazz pianist Bill Mays (featuring the lyrics of Dorothy Fields) which garnered international acclaim. At three years old, Dina dreamed of being a singer. At age eleven, she learned to play folk songs on guitar, gradually expanding her repertoire to include American jazz and blues as well as Brazilian bossa nova. Today Dina Blade is an internationally known musician with a musically diverse schedule of performances and workshops. 
"Light sassy and fun." (Jazzsteps)…"Fresh and original." (Jim Wilke "Jazz After Hours" KPLU)…"Swinging and stylish." (Earshot Jazz magazine)
"This is an incredible band with an amazing sound. We had 200 people dancing the night away! Compliments from our crowd were profuse, and everyone wants to do it again soon." ~D. Boyak, event planner
"We could not have been happier with Swingin' in the Rain's performance at our event this past weekend. Dina and her bandmates were entirely professional, fun, energetic, and took a personal interest in making our event special." Riley E. -party hostess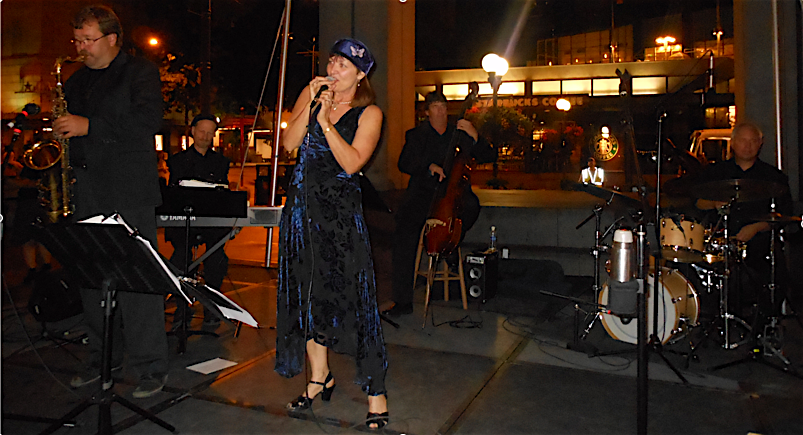 Performance Styles include American Swing/Jazz Standards (swing, blues, latin, and waltz)… Theme Shows featuring 1920s, 30s and 40s American popular classics…and Brazilian bossa nova.                                                                                                                                                
CD RELEASE PARTY!!! Join us for Dina Blade's Bossa Amazônica CD Release with Grupo Apuí and drummer Jeff Busch on Tuesday, July 12th from 7 to 9pm at the North City Bistro in Shoreline Wa. And yes, CDs will be for sale!  "Join me in this exciting evening of international musical exchange! I'll be performing songs from my new cd with André Dantas and Pedro Cruz who will also share some music from their region in Acre, Brazil's westernmost state (deep in the heart of the Amazon rainforest), as well as a few of Andre's original compositions." Note: the owners Ray and Sharon requested that you please email or call them with the number in party so they can plan accordingly, thank you. 206-365-4447 $10 cover www.northcitybistro.com
EVERY SUNDAY from 6 to 9pm you can hear Dina playing and singing relaxing bossa nova and swinging the jazz classics, so treat your yourself to some live music, cocktails and a delicious meal at Harissa Mediterranean Cuisine (1.5 miles northeast of the University of Washington). You will be glad you did! http://www.harissaofseattle.com
NEW!!!!!  Dina Blade's 15 Minute Vocal Workout cd for both men and women "Nothing complicated here, and you can use it everywhere." ~Chris Lunn, (Ancient Victories). Download at http://www.cdbaby.com/cd/dinablade5 for $9.99 or to buy cds  for $10 plus $3 shipping (discounts and free shipping for quantities of 5 or more) contact Dina.
Video clips:
https://www.youtube.com/watch?v=i4r4ciCsAuc&feature=youtu.be Concert in Rio Branco, Brazil with Dina Blade and André Dantas                                                                                                                                       with the Escola do Música do Acre Corál: https://www.youtube.com/watch?v=918oqEdXgXs
Garota de Ipanema – Dina Blade – http://youtu.be/4bLxU5qie2s (Girl From Ipanema) Sexta Tem Concert at Escola de Musica do Acre, Brasil,
http://www.youtube.com/watch?v=4lbF8DufMUM&feature=youtu.be Dina Blade Trio: dance @ Third Place Commons
http://www.youtube.com/watch?v=_Y_bAvjDL4k&feature=relmfu     Amazonia S/A feature on tv in Rio Branco, Brasil 
http://www.youtube.com/watch?v=ho5xYnnn_DA Dina Blade at Bakes Place Jazz Club, Seattle, Wa. USA
Bossa Nova Yogini web blog article: http://www.communityfitness.com/dina-blade/